Engineering Services
Where would my building project be without Plans and Specifications?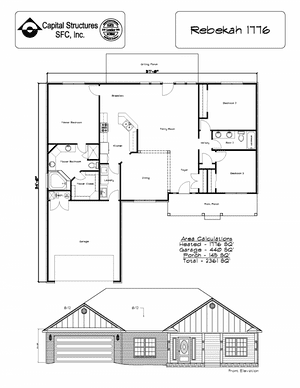 This is the question you should ask if you know what you want to build and how much you can spend. Without these two items; your project will not turn out 100% how you pictured and you will have spent more than budgeted. Plans and specifications are the single most important aspect of a project's cost.
Capital Structures has partnered with structural engineers to develop a method of producing plans that are well thought out from Roof to Concrete. We are able to review the architectural drawings and design the wood structure to suit those architectural requirements. With our component designs complete, our structural engineer is able to complete the process of design by developing sheer walls and foundation systems for project specific load conditions. These paths of design reduce "over engineering" by creating "value engineering" from the beginning of the project.
This method of structural engineering creates industry approved design work that can be used by everyone. Our structural engineer partners design projects out of wood every day; they know how to produce a cost efficient product.
Custom Engineering at Its Best
Taking your project from concept to reality.
Your ideas are our priority.
Meet with one of our designers.
Get Started Today
Turnkey Framing
Time is money. Valuable time can be saved by using Capital Structures Turnkey Frame Construction. Since the 1970's there has been a steady decline in the number of skilled laborers available in the construction industry. The ratio has reversed from ten skilled laborers for every one unskilled laborer to the opposite, one skilled laborer for every 10 unskilled.
It is getting more and more difficult to secure skilled labor on the construction site. Capital Structures Turnkey Frame Construction cuts down on jobsite errors and omissions by working with you from the beginning.
From the start, we use your plans to design and engineer the structural building components, such as floor trusses, roof trusses and wall panels. Then, we send a trained installation crew to make sure the structure is built according to the plans.
Turnkey Frame Construction is the cost effective way to meet today's real work construction demands.
Installation Services
Don't have the time, resources or expertise for an installation project? Let Capital Structures help.
Our team of construction professionals can install all of the manufactured components we make for you. Best of all, we make sure it gets done right, efficiently, and according  to your plans.
Contact Us